Bow Tie
The bow tie is a type of necktie knot that is made out of a ribbon of fabric that is tied around the shirt collar in a symmetrical pattern so that the two opposite ends form loops. Common materials for self-tie bow ties are silk, cotton, polyester, velvet and mixed fabrics. You can wear it to business meetings, formal functions, dinners, cocktail parties, and even night outs in the town.
How to Tie a Bow Tie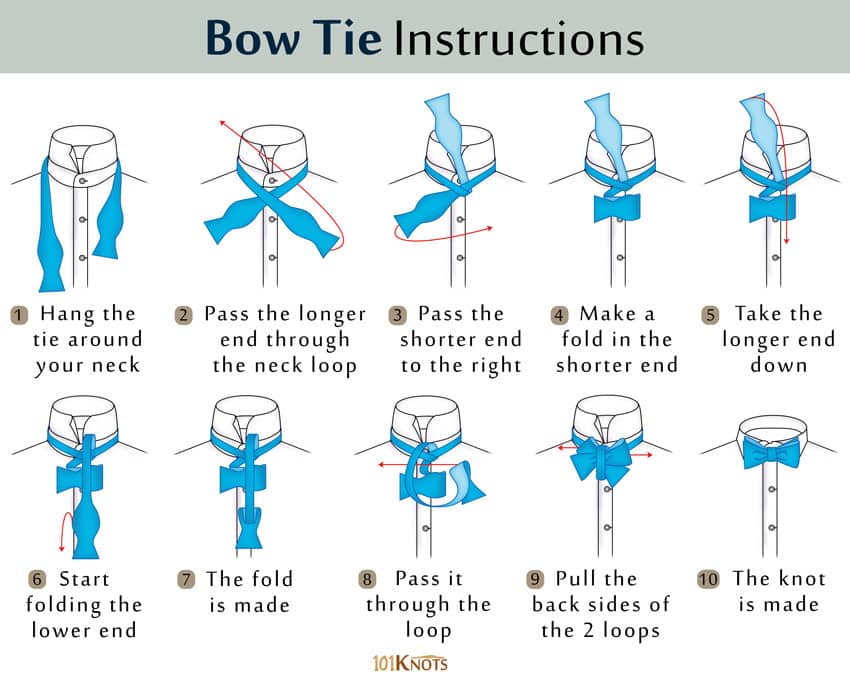 Style Tips
Bow ties are making a resurgence with grooms and best men. Rock your look at weddings with a classic black bow tie.
A white bow tie looks cool and classy on gentlemen who are looking for ways to accessorize a starched shirt having a wing collar and a waistcoat. If you want, you can dress it down by pairing it with a plaid shirt and suspenders.
A great idea to make the groom stand out in a wedding would be to get all the groomsmen to wear the same color of bow ties or neckties while the groom wears a bow tie of a different color from the same color palette.
You can try out bow ties in various fancy patterns like stripes, paisley, polka-dots, sequins, floral, plaid, glitter, etc., to name a few, suited to the occasion you are wearing it to.
If you like solid colors of bow ties, you can try out burgundy, champagne, blush, purple, green, lavender, navy, teal to make a style statement.
You can exude a relaxed vibe by wearing a bow tie with jeans at casual dos!
Different Types of Bow Tie Styles
Butterfly bow tie – This bow tie resembles a butterfly in shape. You can wear this style for the evenings. The knot is relatively small and the loops spread out like butterfly wings. If you have a larger head, you can wear a big butterfly bow tie with a tuxedo at very formal events.
Diamond point bow tie – This type of bow tie has pointed ends when tied. It would win you over with its unique asymmetrical shape. It flatters most face shapes and can be worn as a part of semi-formal attire.
Batwing bow tie – Also known as the skinny bow tie, this shape gives you a clean, symmetrical look. Though less formal than the butterfly, it is a classic style that can be worn at black-tie events. It suits smaller faces and small collar sizes.
Western bow tie – Also known as cowboy bow tie, this style sports long free ends hanging from the bow.
DIY Bow Tie Video
How to Tie a Bow Tie Step by Step
Hang the tie around your neck
Pass the longer end through the neck loop
Pass the shorter end to the right
Make a fold in the shorter end
Take the longer end down
Start folding the lower end
The fold is made
Pass it through the loop
Pull the back sides of the 2 loops
The knot is made